What to Expect at TechXLR8: Anchor Event of Europe's Largest Festival of Tech
WHAT TO EXPECT AT TECHXLR8: ANCHOR EVENT OF EUROPE'S LARGEST FESTIVAL OF TECH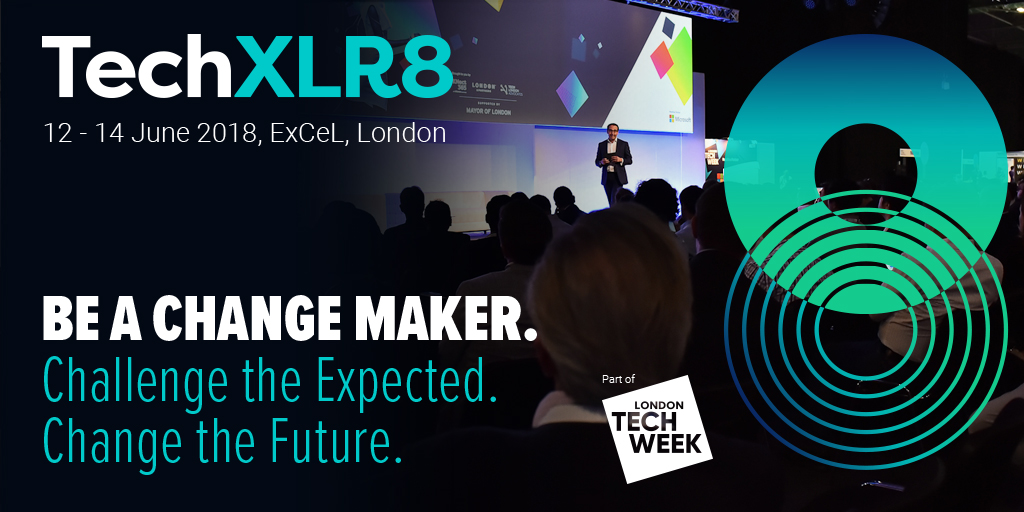 TechXLR8 brings together an impressive line-up of speakers and events showcasing the cutting-edge technology driving the digital economy
From 12th to 14th June, TechXLR8, London Tech Week's anchor event will showcase the cutting-edge technology driving our digital economy, through keynote addresses, panel discussions, live demos and large-scale exhibition. TechXLR8 will explore how the tech scene can inspire social and economic change, foster diverse and dynamic talent, and accelerate global innovation.
Reflecting the rise of the technology sector, seeing investors from outside the UK involved in $5.9 billion worth of deals in 2017 [1], the TechXLR8 Headliners Stage brings together some of the most influential figures from the sector, as well as some of the biggest names in business and politics.
Hyperloop One Vice President Colin Rhys will be joining TechXLR8 on the Headliners Stage. Colin will be discussing the creation of a next generation transportation network and how it is going to transform how societies live, work and build the cities of the future.
Other headline speakers include Wikipedia co-founder Jimmy Wales, Lastminute.com co-founder Martha Lane Fox, BT Chief Executive Gavin Patterson, Microsoft CTO Michael Wignall and Juliet Bauer, NHS Chief Digital Officer.
Keynote speakers aside, London Tech Week organisers estimate that 48% of the 15,000-plus attendees of the headline TechXLR8 event will be company directors from 8,000 firms across 125 countries. Delegates will hear from leading global tech companies with event partners including Huawei, Ericsson, Intel, FIWARE, Samsung, Qualcomm, BT and Nokia.
On top of an impressive line-up of speakers are eight events covering major emerging technology markets:
This year's event will also see a number of live demos, showcasing pioneering technologies, from virtual, augmented and mixed reality projects, to flying drones enabled by super-fast connectivity. TechXLR8 sits at the heart of London Tech Week as its anchor event: during the rest of the week, it will also be possible to attend a number of summits outlining this year's key theme streams. These include the Inclusive Innovation summit exploring the positive impact of a diverse workforce, as well as the Futurist Summit and Developer Summit.
The festival will also feature an extensive social calendar featuring a Prince's Trust Gala Dinner, F1H20 Powerboat Racing, and celebration parties.
Zoe Osmond, Festival Director, London Tech Week, commented: "Technology is no longer the specialty department, it has become ubiquitous, sitting at the heart of all businesses. At this year's festival, we are recognizing the people and companies who are driving digital change, disrupting traditional industries and shaping the world of tomorrow, ensuring London remains at the center of technological innovation in Europe."
Sam Oakley, Events Director, TechXLR8, commented: "As technologies such as artificial intelligence, 5G and IoT continue to disrupt the way we work, live and play, it is essential we engage in an open discussion about how to develop and harness them. We are thrilled that TechXLR8 will be leading this discussion, with leading experts in the field outlining their views on our increasingly digital future."
To find out more about TechXLR8 and attend as a delegate or sign up for a free visitor ticket, please visit tmt.knect365.com/techxlr8 (print) / (online).
Notes to Editors
Sophie Tobin
+44 20 7199 6187
+44 7541 749 762
sophie.tobin@wearesevenhills.com
About TechXLR8
TechXLR8 , London Tech Week's anchor event will bring together the converging tech industries by showcasing 8 leading technology events. Experience a show like no other with 1 shared exhibition, 1 headline keynote stage, 20 tracks of content, 8 tech demozones, 40+ hours of networking, an awards ceremony and more. TechXLR8 is set to welcome 15,000+ attendees with 48% director level or above from over 8,000 companies from 125 countries.
For more information: https://tmt.knect365.com/techxlr8/
About London Tech Week
London Tech Week is a festival of events, taking place across the city and representing the entire technology ecosystem.
No other festival of live events brings together as many domestic and international tech specialists and enthusiasts to London for such a variety of networking, social, learning and business opportunities.
Since its launch in 2014 London Tech Week has included more than 700 events and has welcomed delegations from around the world.
London Tech Week 2017 will be organised by founding partners, KNect365, London & Partners and Tech London Advocates, with support from strategic partners Tech City UK, ExCeL London, DIT and techUK.
More information on can be found https://londontechweek.com/
[1]Statistics from Pennington Manches Golden Gate to Golden Triangle Report