NFV/SDN Insight Webinar (Recorded Wed 7th June 2017)
Telecoms network operators have been considering the use of SDN and Network Function Virtualisation for some years, but 2017 is the year that most leading Telcos will adopt the technologies for serious production deployment. This results from resolution of key operational challenges, with Service Orchestration and Assurance being addressed by open source software initiatives as pragmatic industry "standards". Telcos are also learning how to deliver business value, through exploitation of their existing assets with the provision of distributed "Fog" processing to service new 5G niche applications and complement "Cloud" services.
This Insight Webinar run by Telecoms Academy, will:
Highlight the key SDN & NFV initiatives
Review the leading use cases
Explain the expected business benefits.
Recorded: Wednesday 7th June 2017
Speaker: Murray Cooke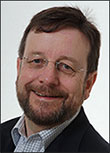 Murray is the former Business Services Architect in the BT Group CTO's Office where he pioneered the use of software based network appliances in Carrier Networks, and subsequently progressed the adoption of that technology at Intel to establish what we now know as Network Function Virtualisation (NFV).
He has worked with leading Service Providers globally to develop their NFV strategies "From the Silicon to the OSS"; including significant contributions into NFV Orchestration standardisation.