MWC 2018 – Ovum's What to Expect Report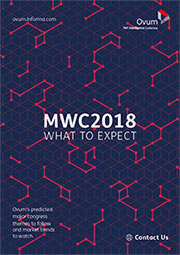 Available now on ovum.informa.com is Ovum's guide to what to expect at this year's Mobile World Congress: 
The Ovum analyst team have identified the critical themes and the companies to watch in Barcelona. The guide finishes with a short review of how our 2017 predictions  played out – seems we did pretty well!
Major themes to follow and market trends to watch at MWC 2018
This guide sets out the main themes that Ovum expects to see at MWC 2018. Our short list is based on our own research, supplemented with interviews with vendors and service providers that are attending the event.
So, whether you plan to be in Barcelona or merely track developments from afar download Ovum's MWC preview for:
The overarching industry events to follow
The top 13 companies to watch
A review of our 2017 predictions
Download your copy here:
https://ovum.informa.com/resources/product-content/mwc-2018-what-to-expect